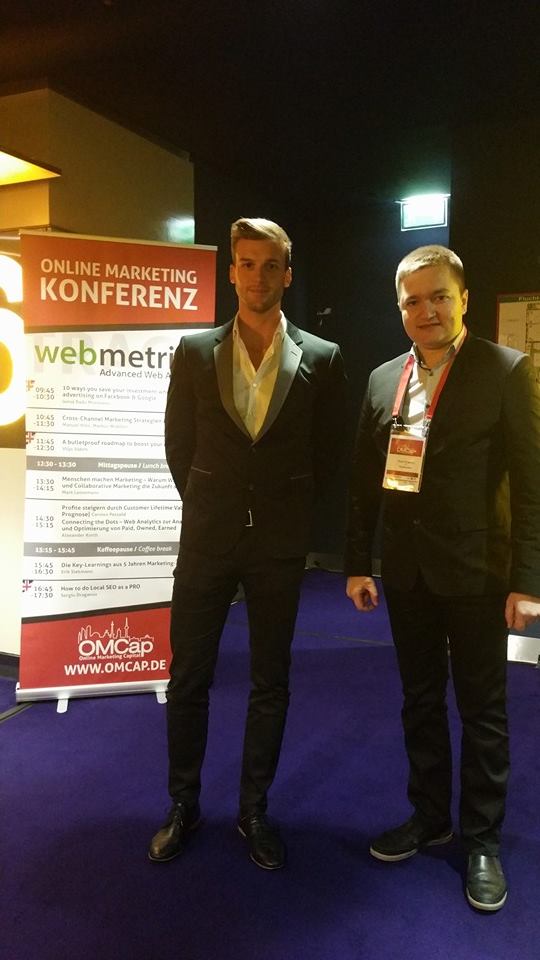 This year's edition of OMCap Berlin (Online Marketing Capital) was developed around the latest trends, insights and developments in online marketing and featured a large density of captivating talks and expert speakers such as Fernando Angulo (SEMrush), Gianluca Fiorelli (iloveseo.net), Ionuț Radu Munteanu (WebDigital), Sergiu Draganus (GeoRanker), Tobias Röver (Microsoft), Uwe Becker – Keynote (Uwe Becker Media & Marketing Beratung GmbH) and many other professionals from the industry.
To get a clear overview of OMcap 2015, we interviewed Cyrill Tröndle, CEO of SwissClass Trade AG, who attended this edition and who was kind enough to provide us with a few key insights.
GoRanker: Hi, Cyrill, first of all, thank you for accepting to do this interview with us. What was your general impression of this year's OMCap event?
Cyrill Tröndle: For me, it was the first time I attented OMCap and it was great, I liked the energy which was really good between the speakers and the public; there was a lot of knowledge sharing going on and the speakers were really open to discussions with the attendees – I think they used this as a chance to see what the customers are feeling right now and what their current needs are. I liked the location as well although, at times, the place felt almost a bit too relaxing, I think, because people tended to feel too comfortable in their chairs and there were moments when the energy was a little bit lost – this is just something I thought it could be done differently next year.
GoRanker: How did the audience feel like to you? And by that I mean its responsiveness to the topics and the speakers on stage.
Cyrill Tröndle: It depended, clearly, on the discussions started and most of the time the audience was a bit quiet until somebody asked the right question. As soon as that happened, the discussion really started flowing, especially with certain topics as was the case with roq.ad, a company collecting data across devices. People seemed, at first, a bit scared as they didnt know where this data was from and why they were able to do so. They brought up some really interesting points and everybody was, at the end, more or less happy with the answers they [the company] provided since they seemed really open and honest about it.
GoRanker: What did you personally learn from the event?
Cyrill Tröndle: What I took away , which was most important, I had great discussions with some of the industry leaders in different niches, and I saw a couple of new technologies, especially for Facebook – the advertising there is going to change a lot. Both on Facebook and on Google there are going to be some major changes in the future, especially concerning advertising. The user experience seemed really good.
GoRanker: So, basically, they are preparing a seamless advertising experience both for the user as well as for the advertiser?
Cyrill Tröndle: Exactly. And they are adding a lot of value though design. If the design becomes more beautiful then browsing through advertisements becomes more fun because they look good and, consequently, the conversion rates will also increase in the future.
GoRanker: Would you recommend the event to those working in the online industry? What's the main reason why?
Cyrill Tröndle: Yes, most definitely. If you're working in digital marketing of any kind, it's a great idea to go there to see what's new, who are the new players in town and just feel the vibe of the crowd. You can learn who's doing what, what are they proud of, and more importantly, what are their suggestions or advice for the future in regards to technology and marketing tools. I would definitely recommend to everybody to attend to these type of events if they want to be up to speed, up to the newest technologies; just make sure you bring a couple of good questions with you because there's valuable time you can use to ask those questions to people who might know the answers. Don't go just to watch the crowd and all the talks, have a couple of good questions prepared for the speakers because it's quite the insight you'll get on the whole industry!
GoRanker: What would you define as the highlight of the event?
Cyrill Tröndle: Let's see.. It would be quite unfair to say that just one of the presentations was the highlight.. I mean, for me, one of the highlights was definitely seeing the new technologies in digital marketing industry before their official release. As I mentioned in a previous answer, I was quite impressed with the new look and feel of Facebook and Instagram, advertising wise – nothing like you've seen before. One of the highlights for sure. Then there were the little perks, the chats, the interactions between people.
GoRanker: As you already know, one of our strategic partners, Sergiu Draganus (GeoRanker), has been on this year's OMCap Speakers' list. Could you give us a few details about your interaction with him? How did you find his presentation?
Cyrill Tröndle: I've known Sergiu long before any of these events, and he's always so passionate about everything that has to do with technology, its processes, and about the companies he's involved in. I have never seen anybody as passionate about SEO as Sergiu is actually, because he just lights up and starts talking – he can talk to you for hours about search engine optimization. It's one of his passions and you can clearly see it when you start talking to him. Also, during these events he always has great insights – I watched some presentations with him and he shared valuable insight not mentioned by the speakers. That's why it was fun sitting next to him, he knows as much about this industry as anybody in there if not even more. His presentation was great, he had a good case study and I think everybody could relate to it really well because he brought up the common issues people are facing with geodata and Google's local search algorithm, which is not always specific. On this particular topic, he was probably one of the few people who were actually well-informed about these issues and who knew how big of a problem this actually was. Other specialists were more concerned with general SEO and he brought it to the next level with target specific and location specific SEO. I think the audience was really impressed when he made his speech, because even if it was late the people were energetic and responsive.
GoRanker: Could you tell our readers a little bit about yourself, your background and your current business endeavours, Cyrill?
Cyrill Tröndle: Sure! I've worked in IT for a long time and one of the things I've noticed when working with big companies was their inflexibility towards change and that they take a really long time to adapt to a situation, especially when they struggle with something. This was the opposite of motivational to me, career wise, so when the chance came to work with SwissClass Trade I immediately accepted. I was really excited about working together, they had this great vision which I shared. What SwissClass Trade actually does is to provide IT services in every field you can imagine growing a company in, from zero to their first customers or sales. What I love most about it is that I get to see the whole process: starting from nothing, then building a website or an application and continuing to develop as a company, along with the people who work in it. We also work with bigger companies, which have more specific needs. The creativity is not the same as when working with startups but the insight is still very valuable. I love my job and everyday when I wake up I feel like I can make a difference and that I can help companies and people grow. I also like to help them in an offline manner, so to speak, with contacts and advice, or anything else they might need. One of the perks of my job is that I get to see the whole range of things – first sucesses, losses, trying to figure out how to turn losses into profit – that's why I love what I do!
GoRanker: Thank you, Cyrill, for the interview, we appreciate your time and attention and may your present and future project surpass all of your expectations!