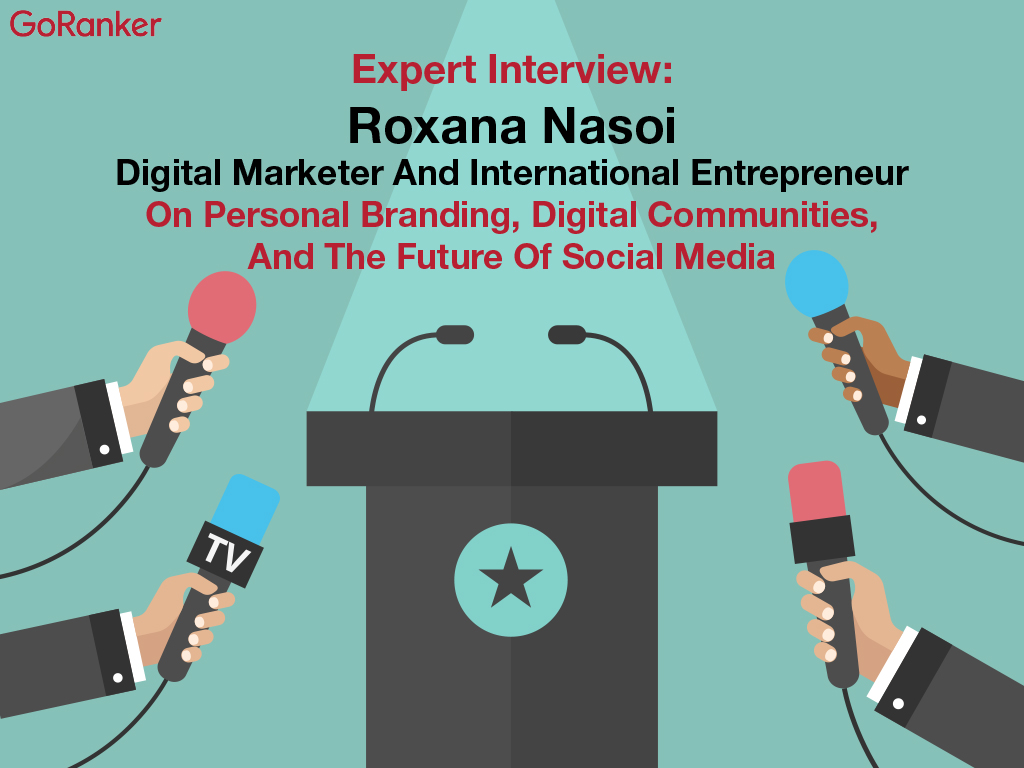 This week, we had the opportunity to sit down and have a chat with Roxana Nasoi, digital marketer and international entrepreneur, an inspiration for freelancers everywhere. She gave us her expertise on various digital marketing aspects, we covered insights, strategies and took a guess at upcoming trends.
GoRanker: Hi, Roxana. First of all, thank you for accepting this meeting. Can you start by walking us through your professional history – where you've been, what you've done, why you moved on, and how you got to where you're at today?
Roxana N.: It all started 7 years ago. I was a Psychology student looking to make some extra money online. Having just finished highschool, I had no experience nor time for a full time job. Freelancing seemed like the way to go. I started my online journey working for a local design platform. I was delivering content and writing articles for a dollar a piece. It was my first client, so naturally, I was clueless regarding payments. Soon after, I moved onto bigger clients. After having worked for one client for 6 months, he told me I was too smart to write articles for him. At the time, I saw it as a door slammed in my face. But I pulled myself together and took an even more aggressive approach on making my way to the top. My first digital boutique, which was delivering visuals, web design and content articles, helped me get noticed. In 2011, along with my moving to Bucharest, I decided it was best to redirect my efforts to other causes and discarded my online business. I switched back to freelancing, had a wonderful collaboration with UK based marketers, created a name for myself in the SEO marketing field. I started representing the Elance community and all my efforts were rewarded when I was proposed to take position as the Ambassador of Upwork community.
There have been a lot of turns in my career path. In the past two years, I have launched a number of marketing startups and I am still trying to figure out the ideal combination.
GoRanker: Tell us a bit about your personal brand. How can one create a brand for themselves?
Roxana N. : First, I will tell you how to create one for yourself. You have to start by creating the social media accounts which you will be using prior to creating your website. It's essential your core values sum both personal and professional values. I find it highly important to be specific in that which you deliver. It all comes down to how you introduce yourself to the world, what sets you apart. Why you would want to meet and why I would like to meet you. You have to connect with a lot a people. At first, you are just a name among many others. Enter communities, learn to listen, both in the online and offline. Start asking questions that will help the entire community and this way, your chances of getting noticed will increase. Being present is all there is.
''First, you're a name, and then you're a noise. Then, you turn into a voice and only after, you become the Voice.''
As for my personal brand, I followed these steps. I was once at a marketing event, where a speaker was presenting a tool. I asked him question related to the tool he was introducing to us so the audience could get a better understanding, despite the fact never having heard of said tool before. People started noticing me. I was becoming more and more aggressive, I would reach out to people I had never met before, both online and offline. I was basically growing a community within a community. My social media accounts were on point and it was the way I was presenting myself to the world that made me stand out. Ann Smarty is a dear friend I made during that period. I would participate in her twitter chats, I was always active, no matter what time zone I was in. You have to invest a lot of time. Weekly meetings, hours and hours of online networking, offline events, always carrying a stack of business cards. When I started getting noticed, I offered myself for mentoring, consisting of 30 minute tops Skype sessions, webinars or offline free work shops.
It takes a lot of time to invest and a lot of time to grow. First, you're a name, and then you're a noise. Then, you become a voice and only after, you become the Voice.
GoRanker: What recently-developed marketing strategy, technique or tool interests you the most right now?
Roxana N: The advantage of being part of a community is that information gets around. And the more groups you are a part of, the information you get. As far as tools go, I have a paid subscription to Feedspot. What it does is that it follows all the blogs and website I am interested in and gathers the content in the form of a daily digest. I open my email, go over the headlines and if I want to read them, I will go into the app. For comments, I have to visit the website. It makes it a lot easier to stay updated. Also, it is vital that you know people in the industry who are always developing new tools. I am part of different groups on several platforms that I use constantly. I am a member of Facebook group CMX Hub, I use Plus Your Business and Google Analytics group in Google+, I participate on Twitter Chats and I contribute in my LinkedIn groups.
Another way of staying updated is visiting reviews platforms, such as G2 Crowd, where you can find reviews, suggest new tools, interact with community managers and recommend tools and this way, you get mentioned in their articles and your brand grows.
GoRanker: How do you properly interact with influencers and community managers?
Roxana N. : I am going to give you a personal example. I was using Raven Tools in a campaign and I wanted to know more. I created an account and I started reading the blog. At one point, I came across an article with GIF and I thought it was hilarious so I commented. The editor noticed me and followed me on Twitter. Later, I got a follow from the CEO. And when I had the opportunity to suggest a speaker for the a Conference, I recommended John Raven. Unfortunately, he couldn't make it, but the mere fact that I did helped us stay in touch.
GoRanker: Social Media marketing has developed a great deal in the recent years. What do you think will be the trend in Social Media for 2016?
Roxana N: Social Media is becoming more and more mobile. As far as I can see it, this is the future. There are a lot of changes, engagement wise, communities and online brands have a more human-to-human approach than ever. I think Apps such as Snapchat, Vine and Whatsapp are very promising. The latter has the great advantages that you cannot be added in a group without your consent, the response is faster than via email or comments, that you can create master mind groups of maximum 6 people, or focus on one-on-one chats. Vine is still great for viral marketing. Skype still works great for online networking, be it in a group or one-on-one. You see, we have our mobiles with us all the time, which can only mean we are always connected, one way or another.
GoRanker: And to conclude, what advice can you give to Juniors who want to follow a career in digital marketing?
Roxana N.: Start working on your personal brand. Before talking business, you have to make people notice you. Learn that first comes social listening and then, after a couple of months, acting. What you are aiming for is becoming recognizable, therefore use the same profile picture for all your accounts, be consistent in your presence and building your brand. But most importantly, although it seems intimidating, do not give up!
Thank you, Roxana, for the interview, we appreciate your time.
You can find her on Twitter, LinkedIn, Facebook, or you can visit her blog.