1. LOCAL SEO
Local SEO ensures your brand is findable — and looks and sounds great — on mobile devices by customers in your target audience. Local SEO consists of:
Determining the current state of your website in local Google results
Identifying keywords and the number of local searches for each
Identifying and analyzing your local SEO competition
Building an SEO strategy
Ensuring your Google+ strategy is up to date and working to build your brand
Building a Social Media strategy
Monitoring Google, your local competition, and your digital marketing strategy
Making sure your digital marketing strategy is always up-to-date
Here are some graphs with actual Google Local rankings for Laka Skin Care and Spa. After implementing local factors their website started to show in Google Local reaching positions 4 and 10 in only 2 months.


2. KNOWLEDGE GRAPH SEO
When you search, you're not just looking for a web page, you're looking to get answers, understand, or explore. Google is building a massive graph of real-world things to bring you more meaningful results and help you discover more. We help you create and/or optimize your brand's Knowledge Graph and ensure it shows beautifully in search. Effective Knowledge Graphs contain:
Correct name, address, telephone number, and Google maps location
Company logo
Beautiful images that reflect your brand's mission, vision, and values
Business category
Hours you are open for business
Latest posts
Reviews
Events and special offers
This is an example of how we transformed a local spa's knowledge graph: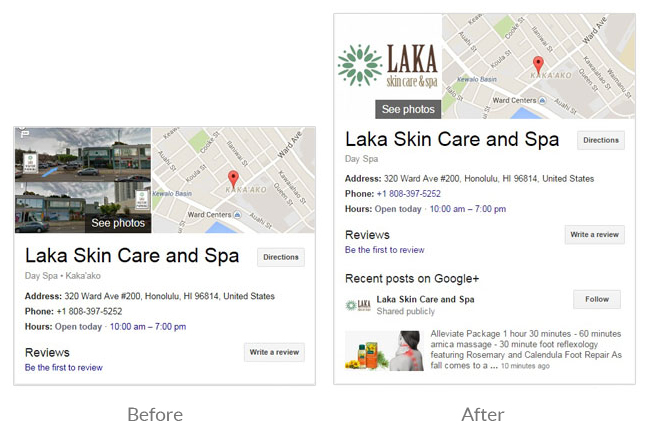 3. ONSITE SEO
OnSite SEO consists of changes within your website's code. Using semantics (what people really want to find when they type in search terms) and structured data (how your web site is coded to help match what people say they are looking for), we help Google better understand your website's content. During the OnSite SEO phase of a project, clients see small improvements that ensure a strong foundation for OffSite SEO. OnSite SEO includes:
Auditing
Keyword planning
Error resolution
HTML optimization
Creating SEO-friendly URLs
Content strategy
Here is an example of big changes resulting from OnSite SEO that we performed for a coffee and vending machine client: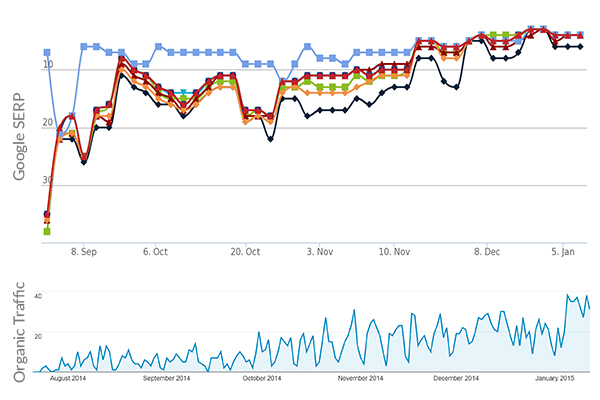 When we started in September, 2014, this site ranked 25 in the Google Search Engine Result Page (SERP) for 'vending machines' and even lower for other keywords. By the time we finished OnSite optimization in November, 2014, our client ranked at least ten in most of his the target locations. The increase in Google SERP ranking continued in the following months, reaching position four in a mere  four months. Organic traffic increased as well, especially after the client reached the first page in Google's SERP, as you can see on the two graphs above.
4. OFFSITE SEO
Creating and posting new content in a variety of places, including your website and other high authority sites, increases website SEO authority by providing links back to your website. Offsite SEO mainly consists of:
Auditing external linking structure
Raising site authority
OffSite SEO that follows OnSite SEO is when outstanding results start to happen: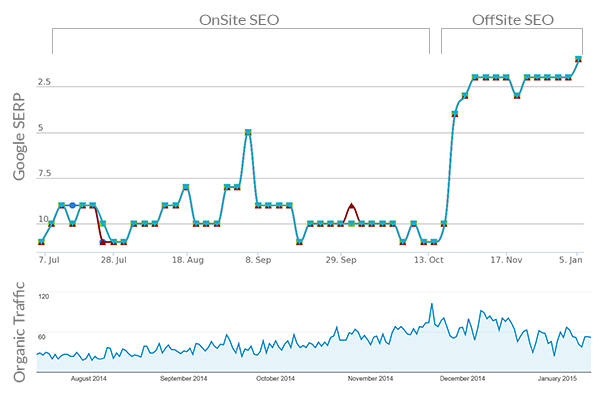 In the case of this massage chair producer,  OnSite SEO itself did not produce outstanding results. As happens so often, OnSite SEO created the foundation for the OffSite SEO strategy, which had a huge impact on Google's SERP rankings and organic traffic, as you can see in the graphs above.